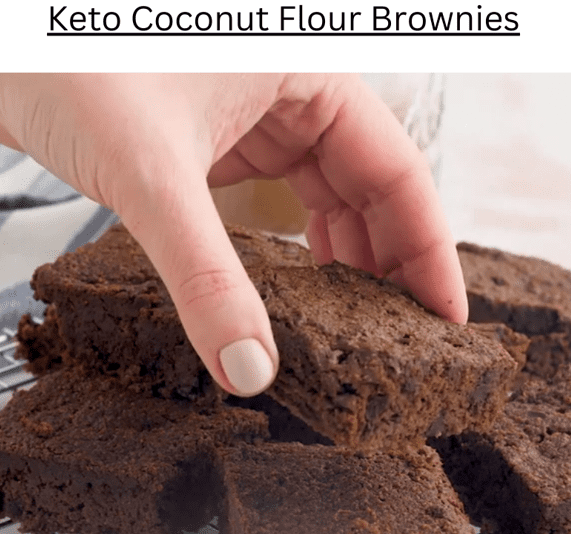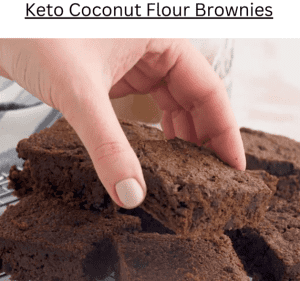 Keto Coconut Flour Brownies are a delightful, low-carb twist on the classic brownie. These fudgy and indulgent treats are perfect for those following a ketogenic diet or looking to reduce their carb intake while satisfying their chocolate cravings. With the goodness of coconut flour and the richness of dark chocolate, these brownies are a guilt-free pleasure.
Keto Meal Plan for Free: STEP-BY-STEP GUIDE TO THE KETO DIET FOR BEGINNERS
Recipe: Keto Coconut Flour Brownies
Ingredients:
1/2 cup coconut flour
1/2 cup unsalted butter
1/2 cup dark chocolate (85% cocoa or higher), chopped
1/3 cup powdered erythritol (or your preferred keto-friendly sweetener)
3 large eggs
1 tsp vanilla extract
1/4 tsp baking powder
A pinch of salt
Keto Meal Plan for Free: STEP-BY-STEP GUIDE TO THE KETO DIET FOR BEGINNERS
Nutrition Facts (Per Serving – Makes approximately 12 brownies):
Calories: 150
Total Fat: 13g
Saturated Fat: 8g
Cholesterol: 70mg
Sodium: 45mg
Total Carbohydrates: 6g
Dietary Fiber: 4g
Sugars: 1g
Protein: 4g
Servings:
This recipe makes approximately 12 Keto Coconut Flour Brownies.
Keto Meal Plan for Free: STEP-BY-STEP GUIDE TO THE KETO DIET FOR BEGINNERS
Instructions:
1. Preheat the Oven:
Warm up your oven to 350°F (175°C) and prepare an 8×8-inch (20×20 cm) baking pan by greasing it or lining it.
2. Melt the Butter and Chocolate:
In a microwave-safe bowl or on the stovetop, melt the unsalted butter and chopped dark chocolate until smooth. Allow it to cool slightly.
3. Prepare the Batter:
In a mixing bowl, whisk together the eggs, powdered erythritol, and vanilla extract. Mix thoroughly after adding the melted chocolate mixture.
4. Add Dry Ingredients:
Mix the baking powder, coconut flour, and a small amount of salt in a another bowl. Stirring until thoroughly blended, gradually add these dry ingredients to the wet mixture.
5. Transfer to the Baking Pan:
Transfer the brownie mixture into the baking sheet that has been preheated and level it out.
6. Bake:
Bake for 20 to 25 minutes in a preheated oven, or until a toothpick inserted in the center comes out slightly moistened with crumbs. Take care to avoid overbaking.
7. Cool and Cut:
In the pan, let the brownies cool. After they cool, cut them into twelve squares.
8. Serve:
Serve your Keto Coconut Flour Brownies and enjoy a delicious, guilt-free chocolate treat.
Keto Meal Plan for Free: STEP-BY-STEP GUIDE TO THE KETO DIET FOR BEGINNERS