It could not be easier to make these refreshing Easy
Keto
Freezy Orange Creamsicles. They are easy freezy beautiful.
Time to make some orange creamsicles by breaking out the popsicle molds.
BRANDS OF ORANGE JELLO WITHOUT SUGAR
I want to recommend that you make your creamsicles with Sugar-Free Jello. Your children won't notice a change, and they'll consume a tiny bit less sugar throughout the day. Moreover, any flavour of creamsicle can be made. If you like the (in my opinion, tastier) red flavours over the citrusy orange flavours, there's no need to stick with them.
Four companies produce Sugar-Free Jello. These are GramZero, Jello-O, Royal, and Starburst. GramZero brand stands out because it uses stevia leaf as a natural sweetener. Therefore it is a terrific option if you are concerned about the artificial sweeteners used in gelatin desserts.
Ingredients
1 cup boiling water
2 cups heavy whipping cream
2 teaspoons vanilla extract
Instructions
With One cup of boiling water, fill a 4-cup measure.
Mix in Jello powder and stir until it gets dissolved.
To the dissolved Jello, add vanilla and two cups of cream so that the liquid reaches the 3 cup line. Stir until it gets well combined.
Into popsicle pour liquid, mold and freeze for Six hours until it gets firm.
Over the popsicle mold, run some hot water for a few seconds to make it easier to release the popsicles from the mold
NUTRITION
Serving Size: 1 popsicle
Calories: 143
Fat: 15
Carbohydrates: 1
Fiber: 0
Protein: 1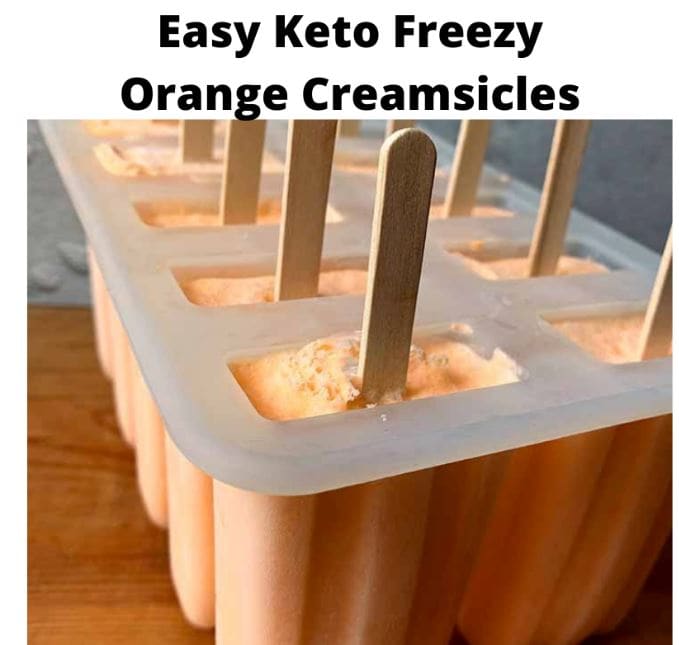 Easy Keto Freezy Orange Creamsicles
It could not be easier to make these refreshing Easy Keto Freezy Orange Creamsicles. They are easy freezy beautiful.
Ingredients
1 cup boiling water

2 cups heavy whipping cream

2 teaspoons vanilla extract
Instructions
With One cup of boiling water, fill a 4-cup measure.

Mix in Jello powder and stir until it gets dissolved.

To the dissolved Jello, add vanilla and two cups of cream so that the liquid reaches the 3 cup line. Stir until it gets well combined.

Into popsicle pour liquid, mold and freeze for Six hours until it gets firm.

Over the popsicle mold, run some hot water for a few seconds to make it easier to release the popsicles from the mold
Notes
NUTRITION
Serving Size: 1 popsicle
Calories: 143
Fat: 15
Carbohydrates: 1
Fiber: 0
Protein: 1