This sweetened condensed Keto Milk Bread is keto-friendly and absolutely tasty! It's essentially day or night bread that tastes like dessert.
This keto bread is so delicious that you can skip the butter.
However, you can never have too much butter, so go ahead and add a generous pat if you prefer.
Two things distinguish this Keto Sweet Bread recipe from others:
It is prepared utilizing my handmade, very basic keto sweetened condensed milk recipe. This imparts a soft, chewy, sweet flavor and texture to the bread as well as a lovely sheen to the top of the loaf.
It is made with my Keto Pastry and Bread Flour. Similar to white flour in both behavior and flavor, this flour. It's quite light. When compared to using regular almond flour or coconut flour, it's a world of difference. We can produce a loaf that is less dense and much more reminiscent of traditional bread thanks to it.
This recipe for Keto Sweetened Condensed Milk Bread is interesting and simple to make, and it yields a gorgeous loaf that is rich in protein and fibre.
It's a terrific technique to sneakily have the whole family eating better food!
If the bread is still available when they decide to sample it.
I Made Keto Sweetened Condensed Milk Bread With These Tools
Nutritional Food Scale: Although this step is entirely optional, if you enjoy my recipes, I now have a $5 guide that lists all the replacements I make for every recipe on my website. This may be used to generate new keto recipes as well as convert old standard recipes. If you're interested, you may buy it here or read more about it. I truly appreciate your help, folks!
Food nutritional scale, also known as my best friend. I've had this little friend for more than 4 years, and he never lets me down. Perfect measures, and the batteries only need to be changed maybe once a year!
Mixing bowls, a loaf pan, parchment paper, a sauce pan or pot, a rolling pin, and a sharp knife.
Bread Made With Keto Sweetened Condensed Milk Ingredients
Butter can be used salted or unsalted; if using unsalted, use 1 teaspoon rather than 1/2 teaspoon salt.
Any sweetener will do; powdered monkfruit is just my personal favorite! It tastes fantastic and blends in beautifully with baked items.
Milk (Whole, 2%, or Almond Milk): Because standard 2% or whole milk has a higher protein content than almond or soy milk, I like using it in this recipe. This higher protein content seems to aid the bread's structure. However, Silk's Protein + Almond + Cashew Milk is an excellent substitute. *Please note that the nutrition information for this recipe is based on 2% milk, however it would still work with regular almond milk or light coconut milk.
Keto Condensed Milk Sweetened (Butter, Heavy Cream, Powdered Monkfruit Sweetener)
Room temperature is ideal for eggs! This stops the egg from reducing the milk's temperature. (The yeast's response and activation are greatly influenced by temperature.)
What leavens our bread is dry active yeast. Ensure that the yeast is still fresh.
Inspirational Food Keto Bread & Pastry Flour
Compared to almond or coconut flour, it behaves and tastes much more like white flour, giving baked foods a lighter texture and greater "rise." It can be used in a wide variety of breads and pastries, including croissants, cinnamon rolls, pizza crust, flatbreads, dinner rolls, bagels, muffins, cakes, and pies, among others.)
WHITE SUCTION – DO NOT SKIP THIS. In order for the yeast to activate, this is required. You don't need to be concerned about it damaging your diet because it is absorbed by the yeast and transformed into CO2 and alcohol. If you'd rather, you may also substitute 2 tbsp inulin.
Use 1 teaspoon of salt when using unsalted butter and 1/2 teaspoon when using salted butter.
Making Keto Sweetened Condensed Milk Bread: Tips and Tricks
Verify the freshness of your yeast. You can always dissolve a teaspoon each of sugar and yeast in warm water to test. For about five minutes, cover with plastic wrap and leave. Your yeast is active if the mixture bubbles and/or becomes foamy.
In general, you want the milk to be warm enough so that you can easily dip your finger into it. Consider the temperature of a bath.
To avoid affecting the milk's temperature, make sure your egg is at room temperature. A cup of warm water and an egg can be used to quickly bring an egg to room temperature.
Before adding it to the warm milk, make sure the sweetened condensed milk has cooled sufficiently.
Use canned full-fat coconut milk instead of sweetened condensed milk and vegan butter in place of regular butter to make this dish dairy-free.
Do not omit the sugar from this recipe under any circumstances! You don't need to be concerned about it damaging your diet because it is absorbed by the yeast and transformed into CO2 and alcohol. If you'd rather, you may also substitute 2 tbsp inulin.
This is alright! Your bread will still rise well in the oven even if it doesn't double in size.
Bread Made With Keto Sweetened Condensed Milk Storage
This keto bread should be kept covered and kept at room temperature for 24 hours OR it can be frozen in slices and thawed as needed in the microwave or at room temperature.
More Delicious Bread Recipes:
If required, this can also be chilled over night, but keeping it in the refrigerator for more than 12 hours may cause the bread to start drying out.
40 minutes to prepare
25 minutes for cooking
2 hours and 15 minutes of rest
3 hours 20 minutes in total
Ingredients
Keto Condensed Milk Sweetened
6/3 cups heavy cream 180ml
5 tbsp of powdered monkfruit sweetener and 1 1/2 tbsp of butter totaled 50g.
Bread
Whole milk, 2% milk, or almond milk will all work in place of the 2/3 cup warm milk.
60g of warmed-up 1/4 cup keto sweetened condensed milk
at room temperature, 1 egg
2 teaspoons dry active yeast, 6g
24g of monkfruit powdered sweetener, 2 tbsp.
2 1/4 cups of Keto Bread and Pastry Flour, 250g, 1 tsp. white sugar, 4g
1 teaspoon and 1/2 teaspoon salt
1/4 cup salted butter, softened 55g
Glaze
45g of softened butter, 3 tbsp
45g to 60g of 3-4 tbsp. of keto sweetened condensed milk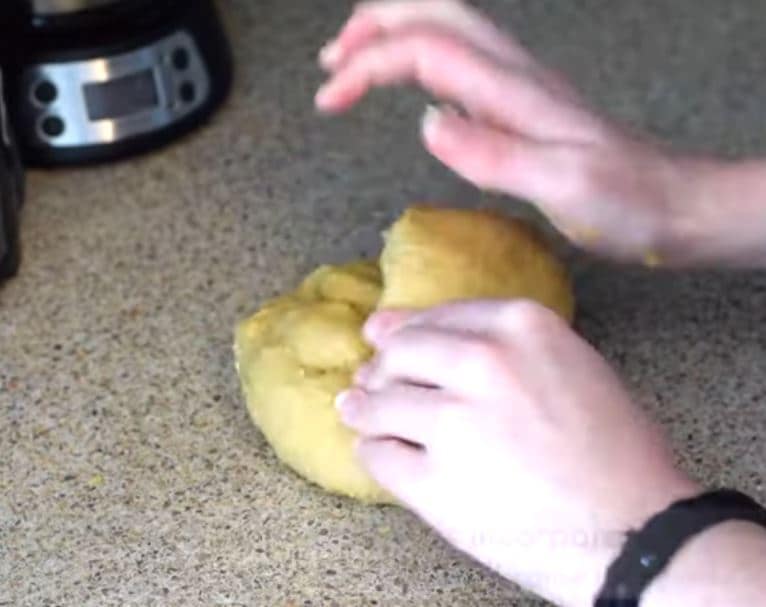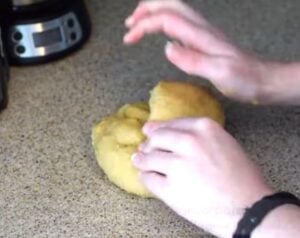 Instructions
Keto Condensed Milk Sweetened
Put heavy cream, butter, and sweetener(over medium heat) to the pot.
Bring the mixture to a boil while whisking until the butter has melted.
When the mixture evenly coats the back of a spoon, turn the heat down to low and let the mixture simmer for about 30 minutes. sometimes whisk.
Pour the finished sweetened condensed milk into a dish and let it to cool to room temperature before adding it to the ingredients below.
Bread
Add the egg, sweetened condensed milk, and heated milk to a large bowl. Combine these by whisking.
The bowl should also contain the yeast, white sugar, and powdered monkfruit sweetener.
Repeatedly whisk, then wrap in plastic and wait 3 minutes for the yeast to froth.
When a cohesive dough develops, add the salt and Keto Flour and start mixing everything with a spatula.
When the dough is smoother, more elastic, and less sticky, transfer it to a clean, greased surface and start to knead it for about 3 minutes.
Spread the 1/4 cup softened butter over the dough after you have slightly flattened it out with your hands.
Fold(before you start kneading it once more) the dough around the butter . Although the dough will be somewhat sloppy, keep kneading it until the butter is completely mixed and it once more becomes smooth and elastic. (To remove any butter or dough that gets stuck as you go, use a spatula or dough scraper.)
Create a ball out of the dough, then set it in a sizable basin that has been buttered all over.
Place the bowl somewhere warm and wrap it in plastic wrap so that it can rise for about 1.5 hours (see tips for where I set mine).
Pour the dough onto a greased surface once it has somewhat risen, and then cover it with a sizable piece of greased parchment paper (this prevents the rolling pin from sticking).
While preparing cinnamon buns, roll out the dough into a (9 by 12)rectangle.
Roll up(lengthwise) dough , folding the sides in as you go. When a roll has been made, I like to kind of press the ends together to make it a bit shorter and thicker.
You could also use butter to butter a loaf pan at this time.
Glaze
Heat THREE tbsp. of the butter in bowl(small). Combine it with 3–4 tbsp of the sweetened condensed milk.
Bread Performed
In the bottom and around the sides of the loaf pan, brush some of this mixture.
Slice your bread roll into 10 pieces with a sharp knife (as if you were slicing cinnamon rolls).
Place the rolls side by side in the loaf pan after which brush the tops of the rolls with a little more of the sweetened condensed milk glaze.
Cover(plastic wrap) bread. Let it sit somewhere warm for another FORTY FIVE min. Pre-heat your oven to 350*F.
After FORTY FIVE min, uncover bread. Put it in the oven. Bake the bread for THREE min at 350*F then reduce the temperature to 330*F and continue to bake for another 22 minutes.
The remainder of the sweetened condensed milk mixture should be brushed over the cooked loaf before it is ready to be served. Without cutting, it is simple to pull apart this bread. Enjoy your bread made with keto sweetened condensed milk!
Nutrition
Serving size: 1 slice; calories: 191kcal; fat: 12.1g; protein: 12.1g; carbohydrates: 4g; fibre: 6.5g